CLICK HERE TO VIEW LAST MINUTE SPECIALS FROM APPLE VACATIONS
Last minute specials apple vacations
Apple Vacations is one of the nation's largest and most respected vacation companies, who like us here at Apples Travel, has been offering last minute specials apple vacations in business since 1969.
Apple Vacations was a pioneer to many of today's most popular vacation destinations such as Cancun, Punta Cana and Huatulco, and was the first to sell "all-inclusive vacations" to the U.S. market. Today,  Apple Vacations carries more leisure travelers to Mexico, Cancun, Riviera Maya and the Dominican Republic, Punta Cana, La Romana, Santo Dominho, Puero Plata than any vacation company worldwide, and is a leader to the Caribbean, the Hawaiian Islands and Costa Rica.
Apple Vacations Resort Representatives* provide the highest level of personalized service to customers, and client satisfaction is carefully monitored through Vacation Satisfaction Questionnaires. Apple Vacations is the only vacation company to rate hotels solely on client feedback and has the most exclusive non-stop vacation flights.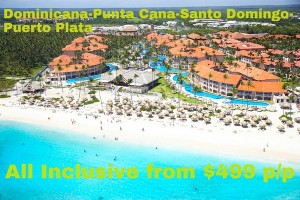 Here at apples travel we offer lots of last minute deals to Punta Cana, Riviera Maya, Aruba, Jamaica
Apple Vacations offers non-stop vacation flights out of Jfk New York City,  Chicago O'Hare, Chicago Midway, Rockford , Milwaukee, Detroit, St. Louis, Pittsburgh and Minneapolis.
Find airfare deals on cheap tickets from Detroit (DTW) to Punta Cana (PUJ) and save on your next flight with apples vacation.
Cheap deals apple vacations  or find deals here with cheap deals Funjet Best price guarantee call us and we will price match any website offer and give you even better price 718-833-3500. Apples Travel for less and save!